We Hindus will not cowed down by any Razakars.
We Hindus are the followers of Sri Rama and Sri Krishna. We Hindus are the worshippers of Durga. We Hindus are the armies of Shivaji Maharaj and Krishnadeva Raya.
This year, several lakhs of Hindus performed the ceremonial procession and immersion (Visarjan) of 14,000 Ganesha murthis in the Ganesh Sagar lake, including 700 murthis from the "Old City".

The Hindu procession was 20 kilometers long. That shows the depth of Hindu devotion, strength and resilience.

Next year, we will increase the numbers of Visarjans and the participants.
We Hindus are unstoppable. And this Bharat is OUR land, our Punyabhumi. And we Hindus are not going anywhere.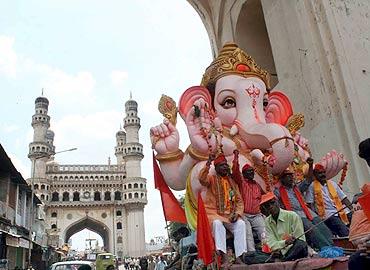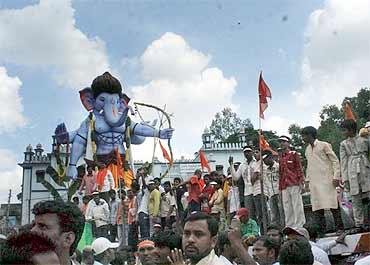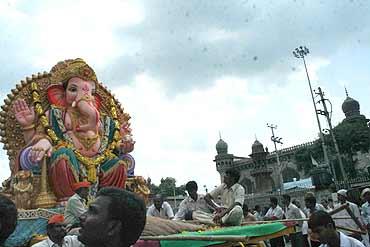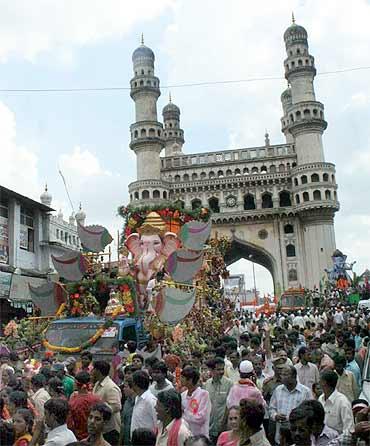 The Hindu procession was 20 kilometers long.
We know all about your fake smiles and Taqiyya handshakes.

And we don't trust you one bit. Not one bit.
And we Hindus will forever be vigilant.
P.S: After all, we Hindus have not forgotten how you savagely attacked and destroyed the Ganesha Puja Pandal in Miraj (Maharashtra) during 2009 Ganesh Chaturthi.
Muslim youth hoisting their green Islamic flag on the top of SP's police jeep at Miraj town
The Muslims destroying the Ganesh Pandal at Miraj town.

Video of Muslims hoisting Pakistani flag on Indian police jeep and destroying Ganesh Pandal